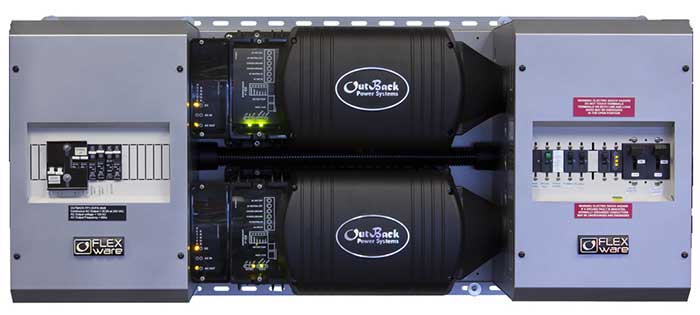 Deluxe Full Home System
*20,250 Watthours / day - 141,750 Watthours / week
Deluxe Full Home System
Solar Electric Home System
6.7 kW PV / 8,000 WATT SINEWAVE INVERTER
This is the ultimate turn-key stand alone solar power system for all of your home electrical needs,
including 120 or 240VAC well pumps.
With this system you will never have to rely on an outside source to provide energy for an energy efficient home.
System Includes:
18 - PV panels (375 watt) 25 year warranty
Combiner boxe & breakers
Solar Array Wire Harnesses & strain reliefs
Top Of Pole mount, ground mounts or roof mounts
Charge controller
8 kW inverter
Array Disconnect Breaker input/output
System Monitor
Temperature Sensor
Array Input and Output Breakers
Inverter bypass switch
Battery Disconnect Breaker
6' Battery to Inverter 4/0 cable set

Also needed but NOT included:
Deep Cycle, Lead Acid, AGM or Lithium batteries.
$Price too low to advertise Cash&Carry Price -
ORDER NOW
prices do not include GST - Provincial Sales Tax Exempt.
Note that exact system components may differ depending on availability & price.
Return to Solareagle Home Page
*Location Dependant